Geir Uthaug - Norwegian writer, poet, translator and critic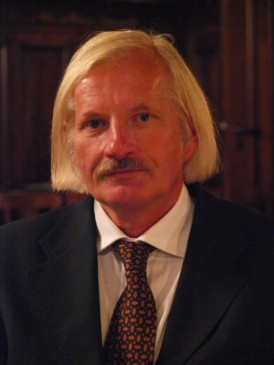 Geir Uthaug (born 1950) is a Norwegian writer, poet, translator and critic who is particularly into the Romantic Age. In addition to his own poetry, Shapes from the Dream and the Mirror and Obelisque, metrical and free style poems woven in mythical imagery, he has translated key works from English literature such as Byron's Don Juan, and Childe Harold's Pilgrimage, Blake's Songs of Innocence and of Experience, and Keats' Endymion, as well as novels by Joseph Conrad, (Nostromo, The Secret Agent), and Ian McEwan. All in all Uthaug has done over fifty translations, spanning from children's books to pop-musicals and plays (Bugsy Malone, Little shop of Horrors, the war of the Newts.) His own play, Ariel, is based on the tragic death of the poet Shelley. His prose work include the majestic 500 page long The Cosmic Forge, on William Blake's life, world-view and work, a book which won him critical acclaim in Scandinavia. A translation of this work into English will hopefully come some time in the future.
Uthaug has worked as a critic for the national newspaper Aftenposten. He won his spurs as a critic in Morgenbladet, (The Morning Paper) where his articles in the eighties were noted for artistic imagery, scholarship and undaunted subjectivity. He was never afraid to challenge, and often provoked by questioning popular or literary trends. He has edited a number of fine poetry anthologies, using his own translations as well as works by other translators. His first book, was Drømmesyn, "Visonary dreams", (1979) containing his first translations of poems by Wordsworth, Coleridge, Keats and Tennyson. Next came "Fill my goblet again" an Anthology of British Romantic poetry, spanning from the earliest translations till the present day. This included Coleridge's Kublah Kahn and the Rime of the Ancient Mariner, the last translation has in recent years been dramatised by the Norwegian theatre company, Grimsborken.
In 2000 Uthaug edited the illustrated anthology of Victorian verse, "Ring, ville klokker," – "Ring out, wild bells" (after Tennyson); spanning the whole range of Victorian poetry from the dramatic to the whimsical. In 2003 he published a further anthology of Romanticism, which contained new translations, for instance excerpts from Wordsworth's "The Prelude" and from Byron's Don Juan – a work which Uthaug since has finished. (The first volume, containing the first five cantos was published in 2006, the second one with cantos six to seventeen will probably be published this year). In 2007 Uthaug edited a collection of Wergeland's poems published as an anthology, To the Earth's Loving Hearts. This was a forerunner of his complex literary biography of Wergeland, Norway's national poet, – Et Verdensdyp av Frihet - A World-depth of freedom – which was highly praised by some critics, and escaped the understanding of others . It marked the highlight of his career, as it was officially launched in the historic Constitution Hall at Eidsvoll on the 200th anniversary of the poet's birth, 17 June 2008.
Uthaug har received much appraisal for his literary work, such as the city of Oslo's scholarship, only granted to the very best of translators, the Parelius stipend from the Artists Society, and various scholarships and stipends. He has been member of the committee of the Anglo Norse Society, Oslo, and is currently on the committee of the Norwegian Artists Society. As a free lancer he has worked for newspapers, periodicals and radio. His latest contribution on the wireless was a talk on Robert Burns.
Uthaug has given many lectures and talks on his favourite subjects, Blake, Romanticism and Wergeland. In 1997 he was invited to the festival of St. Olaf in Trondheim, giving talks on William Blake. In 2008 – the bicentenary of Wergeland – he gave more than 30 individual talks and public performances and Wergeland- recitals. He performed in places as various as the Margaretha Church in Stockholm, the beautifully situated Rosendal Barony in Hardanger, West-.Norway, Lom in Gudbrandsdalen (the "Aukrust festival") , Wergeland's birthtown Kritiansand, and Ibsen's birth-town Skien, the students Society in Oslo, and the Norwegian Consulate general in Edinburgh. He attained and helped to organize the Poetry workshop in Oslo in June 2008, where poets from all continents came together in Oslo to work with Wergeland's poetry. This group has later been called the Companions of Wergeland. As a chief member of this group, as well as a biographer, Uthaug was invited by the Norwegian Ministry of Foreign Affairs in May 2009 to give talks om Wergland's works at the Diaspora Museum in Tel Aviv and at the Tamer Institute in Ramallah.
Geir Uthaug is currently working on a translation of Blake's prophetic book Milton to ble published next year. In 2011 his own critical work on Romanticism will appear, as well as essays containing his chief literary pieces of criticism. He is also working with a biography of his father, the Norwegian sculptor and painter Jørleif Uthaug (1911-1990). (English text Jorleif - click here)